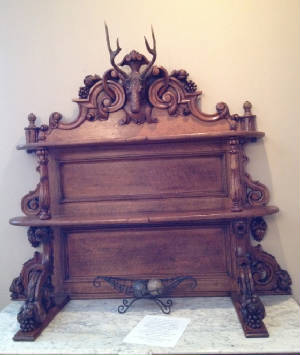 A very fine and rare Oak Sideboard by Alexander Roux.
Although not labeled several carvings are identical to carvings found on
signed pieces
These carvings include the dog head supports, the twig handles, and the fish carvings
all found on the New York Crystal palace sideboard of 1853 and the sideboard in the
Metropolitan Museum of Art.
Sideboard was probably delivered new to Oakland California, as the top is painted under the marble
WGB Oakland Cal.
$ 14,500.00 SOLD