Beauvoir Parlor Set Conservation
Set was severely damaged, with many missing elements including two turned and carved front legs.
The set was missing veneer, numerous carved ears and the uphostery springs were severely rusted
The entire set was dismantled, re-glued and all missing elements remade.
The polish and gilding was conserved and incolored.
The Set was upholstered in a period correct Scalamandre silk reproduction - original to a very similar parlor set.
Beauvoir Harp
The harp was in the front window of the house, it was severely damaged. About 3 years after Katrina it was delivered to my workshop.
All elements were severely corroded, the numerous rods and levers were all seized. Harps have 7 pedals and over 40 strings,
each string connects to two discs and a string adjuster.
Several hunderd screws, discs and slides had to be removed and cleaned. The discs are graduated sizes and have left and right hand screw threads
The pedals make each disc move into 3 positions via 7 rods. After conservation all pedals and discs worked.
A large amount of the gilded composition decoration was missing - replacements were cast from the surviving elements
Most of the base of the harp and the feet were missing, as were many of the ebony string pegs
The harp was unable to be fully tensioned as the soundboard had been weakened by non hurricane related insect damage.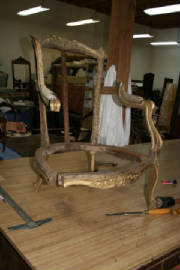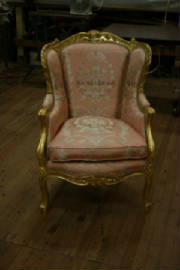 Winnie Davis' Bedroom Chair
The chair was also severely damaged, most of a front leg was missing
The gilding was in very poor condition.
The pre Katrina upholstery was not period correct and the style of uphostery was incorrect
The chair was dismantled all elements repaired and remade as needed
The chair was gilded and upholstered in a documented correct period reproduction Scalamandre Silk